Rising fuel prices thwarting Transat's recovery attempts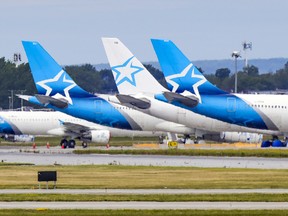 Article content
Transat A.T. Inc., the Montreal-based holiday airline, reported a net loss of $111.6 million in the second quarter, and said rising fuel prices continue to thwart its attempts to recover from two difficult years. Here's what you need to know:
Article content
Backstory
Transat had a rocky first quarter, as the Omicron variant forced it to cancel 30 per cent of its flights in January and February.
When things opened up, Transat saw an increase in demand for tickets, which persisted even as fuel prices rose as a result of the war in Ukraine.
The company has taken steps to protect itself against sharp increases in the summer, implementing a fuel-hedging program. The airline will continue to raise ticket prices to try and recoup their losses. "We observe that consumers are ready to accept price hikes," chief executive Annick Guérard said in a press release on June 9.
Like many airlines, Transat has been battered by the pandemic. In December 2020, Transat shareholders voted to be acquired by Air Canada, but the European Commission put a stop to it, stating that it would narrow market competition and potentially create a monopoly.
Article content
Outlook
Looking ahead, Transat executives said they were confident they can push through the fuel crisis, moving toward eventual profitability.
"We foresee a strong recovery and will continue to implement all the measures necessary to capitalize on it," Guérard said in the press release. "For the longer term, we continue to implement our strategic plan."
The company said it plans to continue rebuilding its pre-pandemic flight network and adding fuel efficient Airbus SE's A321neoLR models to its fleet.
Immediately, the company must cope with latest headwind facing the airline industry: terminal congestion. "We've had delays in Pearson among other places," Guérard said on a call with analysts, referring to Toronto Pearson International Airport. "There are challenges in Europe as well. As demand for travel ramps up, Canada's border policies and resources in airports whether its CATSA (Canadian Air Transport Security Authority), NAVCAN (Nav Canada), CBSA (Canada Border Services Agency) need to reflect this new reality."  
Guérard said processing times at customs are two to four times longer than usual due to public health restrictions. Omar Alghabra, Canada's transport minister, acknowledged the delays this week, but insisted that the government hadn't asked the airline industry to cancel flights.
• Email: mcoulton@postmedia.com | Twitter: marisacoulton